So, it's August. Hard to believe but we're almost ready for football and bonfires once again. We've got one more summer show on the books with our good friends in HindSight. We'll be sharing the stage with them at Party Cove MTL on August 30th and we can't wait to play there again! It's a great venue with great customer service. Make plans to attend this show!!With that being said, we're looking to book up this fall and winter season! We've made contact with some new venues in some new regions as we're looking to branch out more and more. If you would like more info on booking us, simply click the "contact" tab and send us a message!
Thanks for all the support this summer as we played some pretty great shows! See you all soon!



Powered by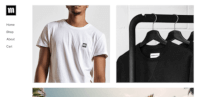 Create your own unique website with customizable templates.