It's time we crawled out of our caves and played a show! We're honored to be a part of the 4th Annual Local Area Musicians Charity Fundraiser later this month! We've been a part every year since it's start in 2010 and we'll continue to help out any way we can for years to come. It's a 2-day event that features over a dozen the best bands in the area. Check out the event page at: http://www.facebook.com/events/294352187341446/?fref=ts
We're slated to take the stage at 2pm Saturday, January 26th, 2013. Please make an effort to come out and support this event and the Leaps of Love organization!!!
Powered by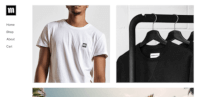 Create your own unique website with customizable templates.