We're excited to be returning to The Firebird in St. Louis, MO on November 7th. We have tickets on hand and need to sell some. We make a little bit back off the ticket price and have a minimum we have to sell. So, if you can make it down for an awesome Tuesday of hard rock, message or email us to get yours today! And if you feel like helping us out and can't make it down, you can always help support us by just grabbing a ticket or two anyway!
Also, we will be making our donation to Pinkie Pals in the coming weeks. If you wanted to grab a limited edition NOWAKE breast cancer awareness shirt, they're still for sale on our official Zazzle Online Store. Proceeds from those sales still go towards our donation until the end of October, so go check it out! Click "Merch" and you'll see the link to our online store.
THANKS!
Powered by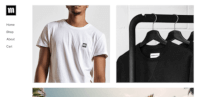 Create your own unique website with customizable templates.